The International Medication Safety Network (IMSN) releases its fourth Global Targeted Medication Safety Best Practices aimed at preventing errors related to improper preparation of 2-component vaccines
Several vaccines require mixing two components that are supplied by the manufacturer in physically separate containers. For example, a lyophilized powder and a vaccine-specific liquid diluent. Other vaccines may include a powder vial plus a liquid antigen vial or adjuvant component. These powder and liquid containers may be packaged together by the manufacturer or, in some cases, may arrive separately. Preparation of the vaccine for injection must be completed prior to administering the dose.
Unfortunately, errors sometimes occur when proper mixing does not happen and only one component of the two-component vaccine is administered, thus the patient will not be fully immunized. In other cases, an incorrect diluent is used to prepare the lyophilized powder, which may affect stability. Such errors may go undetected thus revaccination does not occur, potentially allowing the development of disease. Among the many opportunities for error, the IMSN has identified different scenarios
In some very dangerous cases, a dangerous substance was accidentally used in place of the vaccine diluent. For example, there have been several incidents where a paralyzing agent (neuromuscular blocker) has been used instead of a liquid diluent: in 2014 fifteen children died in Syria, and more recently in 2018 two others infants died in Samoa.
This 4th Global Targeted Medication Safety Best Practice is in line with the IMSN Position Statement on Safer Design of Vaccines Packaging and Labelling issued in December 2015, that called for greater worldwide attention to the problem of unsafe design of vaccine packaging and labelling. The statement called on pharmaceutical companies, technology vendors, professional organizations, regulatory/standard-setting organizations and health ministries to help improve vaccine safety and efficacy.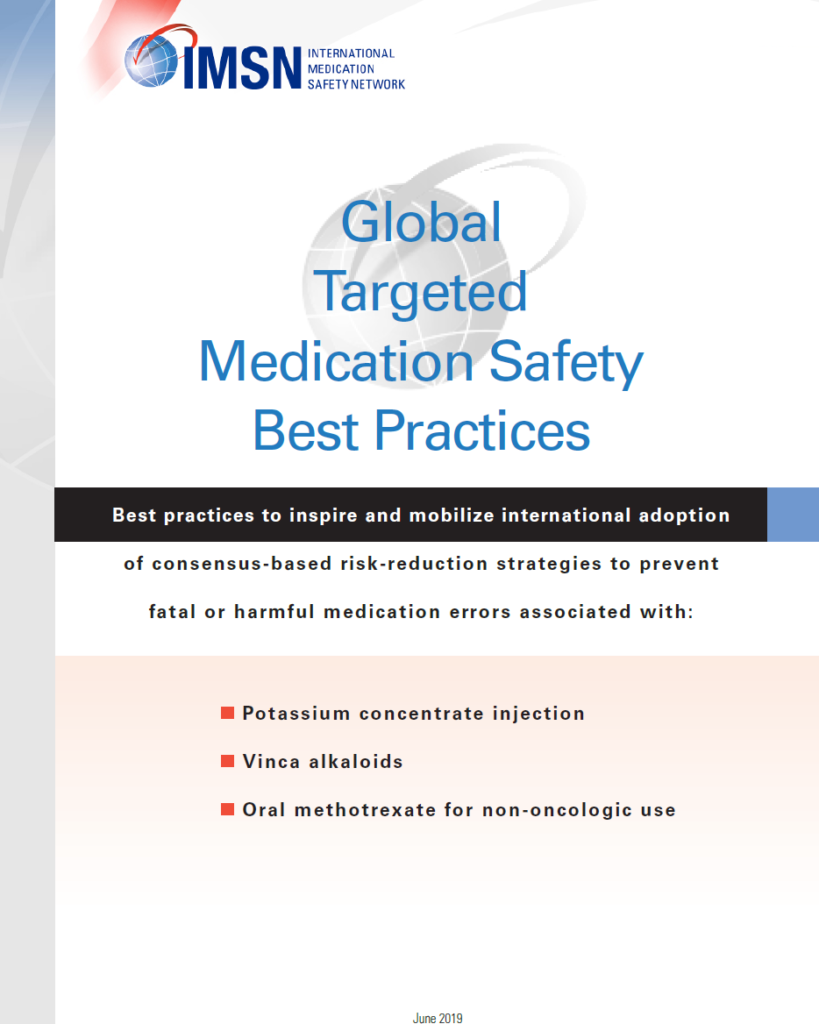 In May 2019, the International Medication Safety Network (IMSN) published its first set of Global Targeted Medication Safety Best Practices to identify, inspire, and mobilize widespread international improvement in error prevention.
This international medication safety call to action was aimed at preventing fatalities due to medication errors with concentrated potassium injection, inadvertent intraspinal injection of vincristine, and accidental daily instead of weekly dosing of methotrexate in patients with psoriasis or rheumatoid arthritis.