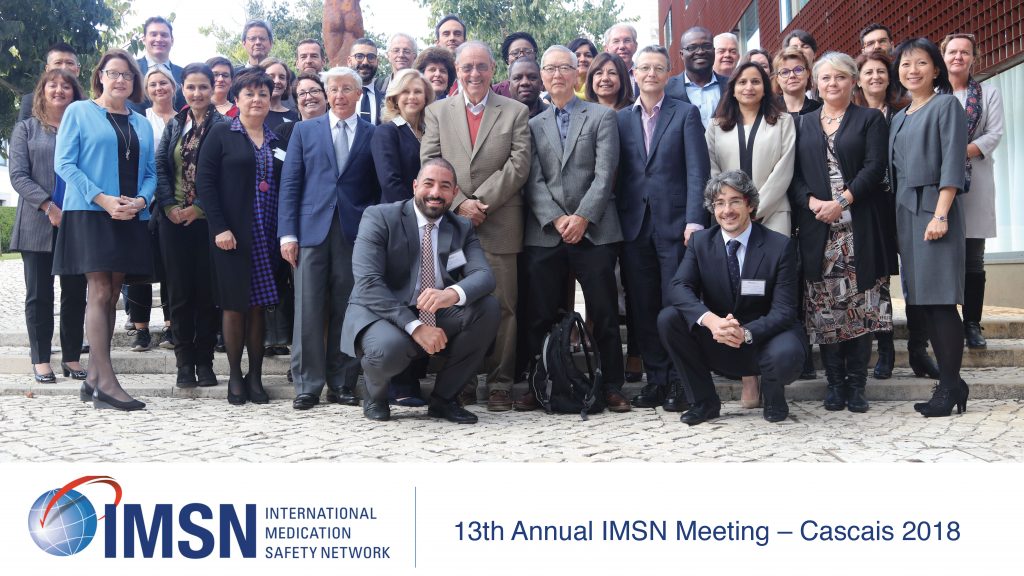 The International Medication Safety Network (IMSN) hold its 13th Annual Meeting on October 29 and 30, 2018 in Cascais, Portugal, hosted by the Portuguese Association of Hospital Pharmacist (APFH). The meeting focused mainly on 2 topics: drug product labelling and packaging safety and medication error in pharmacovigilance programs.
Targeting International best practice for safe labelling and packaging of prescription medicines
The IMSN members discussed strategies for reducing medication errors related to labelling with representatives of pharmaceutical companies (Abbvie, USA; Baxter, Portugal; BMS, USA; Eli Lilly, UK; Hikma, USA; Janssen, J&J, Netherlands; Novartis, USA; Pfizer, USA; UCB, USA) and medicine agencies (FDA, USA; ANVISA, Brasil; MHRA, UK; Norway Medicine Agency) in the perspective of implementing the recommendations of the June 2018 IMSN / FDA Summit.
Participants agreed on the following best practices:
1. Include both the per mL and the per container quantity, not the per mL quantity alone, when presenting the concentration for injectable; with prominence given to total content per container
2. Use metric units for products and eliminate ratio expressions
3. Eliminate potentially error-prone abbreviations and dose designations on labels, such as U for units, IU for international units, and trailing zeros (e.g., 1.0) to express strength
4. Prominently display cautionary statements on the carton and immediate container labels of NMBs, KCL concentrate injection, methotrexate, and other selected error-prone medications
5. Use contrasting label backgrounds for printing on glass ampules and recommended font size and label orientation to improve readability
6. Physically link or integrate "special" diluents for "specific drugs" with their powder component
7. Increase the adoption of ready to use/ready to administer syringes, premixed IV solutions, unit-dose packaging and other more efficient, safer packaging, while considering the overall cost of implementation
8. Develop product-specific world safety standards; for example, standard packaging for non-oncologic methotrexate to prevent accidental daily use and overdose
9. Include barcodes on primary packages so they can be scanned at the bedside or other locations where medications are dispensed and administered by healthcare practitioners
10. Mention prominently international non-proprietary names (INN) on labels
Participants agreed that an IMSN White Paper targeting International best practice for safe labelling and packaging of prescription medicines should be drafted and about the global need to use barcode in the medication use process for patient safety purpose, that IMSN will undertake a barcode readiness assessment at international level and lobby for European Datamatrix code on unit doses. Read on…
The IMSN promotes integrating Medication Error in Pharmacovigilance Programs
Adverse drug reactions and medication errors are two sides of the same coin: medication safety. The IMSN published almost ten years ago a Position Paper on Pharmacovigilance and Medication Errors. Read on...
Aiming to strengthen the cooperation between pharmacovigilance and medication error or patient safety incident reporting systems, the IMSN invited a panel discussion on medication error in pharmacovigilance programs during its 13thmeeting. The nine countries that presented were: New Zealand, Morocco, United Kingdom, Canada, USA, France, Portugal, Germany and Norway.
There was a consensus view that more attention should be focused on promoting and extending greater involvement of more pharmacovigilance centres in medication error reporting and analysis and that the IMSN should become more active in participating and facilitating in this harmonisation. Specific activities and projects aimed at strengthening the harmonisation, complementarity and integration of pharmacovigilance and medication error were identified and supported by consensus. The IMSN Position Statement on pharmacovigilance and medication errors will be updated accordingly.